Magmaple Industrial
No.7, Renmin Road, Zhongshan District, Dalian, China
Tel/Fax: 086 411 62618227
E-mail: glassbeads@163.com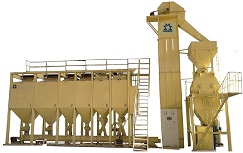 MAGMAPLE
M-03Thermoplastic Paint Manufacturing Plant
uses nine kinds of raw materials according to ratio proportion requirements, automatic mixing, weighing and packaging.



The designed capacity is about 8 ton per hour, including the following two units.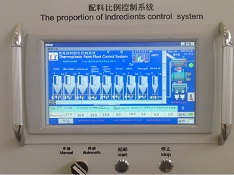 1. Automatic batching unit


2. Mixing-weighing-packing unit


Control system for batching unit


MAGMAPLE M-03Thermoplastic Paint Manufacturing Plant adopts the touch screen CHTouch-070 (PLC) industrial PC.
Industrial PC through the weighing transducer dynamic testing all raw material silos.


Specification for MAGMAPLE M-03Thermoplastic Paint Manufacturing Plant
(Only for reference, all the datas can be adjustable by computer accordingly to customer`s requirements.)


| | |
| --- | --- |
| Capacity | 6-8 tons / hour |
| Raw material silos | 9 sets |
| Mixer | 1 ton / batch |
| Production cycle | 8-10 min |
| Packing machine   | 2 sets |
| Batching system | Industrial PC |