Magmaple Industrial
No.7, Renmin Road, Zhongshan District, Dalian, China
Tel/Fax: 086 411 62618227
E-mail: glassbeads@163.com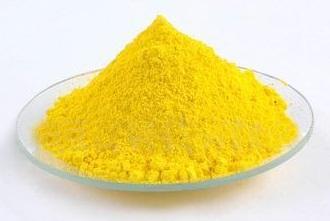 Specifications
Chrome Yellow
1.Lemon yellow powder
2.Used in the industries of painting,printing ink, rubber, plastic and stationery etc


Light / Medium / Deep / Lemon Chrome Yellow
Molecular Weight: 323.22
Molecular Formula: PbCrO4
P.H. Value: 6.5-7.5
Density: 5.9
Oil Absorption(ml/100g): 20-30
Light Fastness: 5
Heat Resistance: 200
Water Resistance: 5
Oil Resistance: 5
Acid Resistance: 4
Alkali Resistance: 5
Chrome Yellow Characters And Application:
1. It has good heat, acid and alkalis resistance, and light fastness, easily dispersed.
2. It is prepared by the precipiation of chromate salt with lead nitrate solutions with special surface treatment of silica, aluminum and other additives. The pigment particles of the treated chrome yellow are coated with a layer of encapsulated protective coating, so the pigment properties are greatly improved, and it is suitable for many industrial applications.
3. It has a clean bright color, with outstanding weather resistance and light fastness. The product can withstand over 200 C. Deg, under such temperature the color would not change. The coated pigment can easily dispersed in paint, printing ink, rubber and plastics media, with good chemical resistance. As compared with ordinary chrome yellow, it contents less soluble lead, and conformed with many safety regulations, reduces the environmental hazard. It can be used in heat fusion road paint, which have special demand on weather, chemical resistance and light fastness.
Chrome Yellow Storage:
1.Be set to cool.dry and ventilated place .away from Fire source.
2. Sealed,Prevent from rain .sunlight and strong acis or alkali.
3.Lightly transport and protect from package damage
Chrome Yellow Specification
Chrome Yellow

Item

Lemon chrome

light chrome yellow

medium chrome yellow

Deep Chrome Yellow

Orange chrome yellow

lead chromate%≥

50.0

60.0

90.0

85.0

55.0

water soluble%≤

1.0

1.0

1.0

1.0

1.0

PH value

4-7

4-7

5-8

5-8

5-8

Moisture%

3.0

2.0

1.0

1.0

1.0

Hiding power(g/ cm2)

95

75

55

45

40

Tinting Strength%

95

95

95

95

95

Oil absorption%

30

30

22

20

15

Residue On Sieve(325mesh)%

0.5

0.5

0.5

0.5

0.5